The Witches Digest for Monday, January 8
(Part 3)
Your Cosmic Weather Report for the Year 2018
by Jane Lyle, Astrologer
From The Astrology Room
Welcome to 2018!
2018's constructive potential reaches out to us amidst the chaos.
We can, if we choose, focus on building firm, new foundations in physical, creative, and soulful ways. And we can work on rebuilding or reinventing what's wobbling in our world – from love, sex, and friendship to money and meaning.
Our collective thinking about our significant responsibilities towards life on Earth itself can begin to develop in new, practical directions. Many of 2018's planet patterns invite us to act in positive ways, but of course it's ultimately up to all of us to not only embrace hope, but to roll up our sleeves, feed our imaginations, and get to work. Happy New Year!
Image: 'Sami on skis in Northern Lights' by Frants Boe (1885) via Wikimedia Commons PD
Astrology's Five Big Signposts for 2018
1) Earthbound: Saturn in Capricorn, 2017-2020:
Old Man Saturn is strong and powerful in its home sign, Capricorn. The planet of time, structure, foundations and karma travels through serious Capricorn until December, 2020. Reality bites, reality rules, and we must all try to work with Saturn and become more down-to-earth and practical during these years.
*Saturn in Capricorn is one of several astrological signs that a critical financial sea-change is afoot. It favours banking regulations, tax initiatives, and restrictions of various kinds in the stock markets. Saturn in Capricorn is an old-fashioned banker who respects rules and structure. And Saturn in Capricorn is not impressed by cunning tax avoidance schemes – legal or otherwise – either.
*Saturn in Capricorn symbolises the rocks beneath our feet and the great mountain ranges of the world. So we could see more news – and more discoveries – about mining, minerals, fracking, caves, fossil fuels, and tectonic plates. Along with Uranus in Taurus, it represents a time when we move towards taking practical steps towards conserving resources, and taking care of the Earth itself.
*Saturn in Capricorn describes old age – and encourages a focus on older people and their care – and perhaps considers their ability to contribute to society as well.
*Saturn in Capricorn loves history and tradition, and is conservative and cautious by nature.
We'll all feel this shift. The cardinal signs of Aries, Cancer, Libra and Capricorn approach an important two-year phase. And if you have planets, angles, or points between 0 and 11 degrees in your own personal horoscope, you will experience a Saturn transit – or the start of one – this year.
People, organisations, and nations who were born with Saturn in Capricorn will be having, or approaching, their Saturn return – an important time of added responsibility, assessment of what's real, and often a leaving behind of what isn't working out.
Saturn was in Capricorn:
December 1929 – November 1932
January 1959 – January 1962
February 1988 – February 1991
Saturn in Capricorn will be active in many world horoscopes. Here's a few that will experience a visit from the down-to-earth Time Lord himself in 2018:
A Saturn return is coming up for:
Palestine
Thailand
Australia
Hungary
Latvia
And in 2018 Saturn sternly crosses the Sun in these horoscopes:
Libya
Indonesia
Lebanon
United Kingdom
Czech Republic
Australia
Slovakia
The European Union
The Euro
Testing times are in store, realism is required.
2) The Electric Earth: Uranus in Taurus 2018 – 2026
Uranus enters Taurus on 15th May, 2018.
A new era for invention, revolution, originality and science is dawning. And like an electrical storm, this theme will flicker at first. Between November 2018 and March, 2019 we get a re-run of late 2017 and early 2018 as Uranus backtracks for the very last time into Aries.
But the changes signalled by Uranus in Taurus begin this year. What's brewing?
Uranus in Taurus combines the stubborn, earthy, security-minded qualities of Taurus with Uranus, the eternal disruptor. What does security mean to us? We will be asking ourselves this question many times during the passage of Uranus through Taurus between 2018 and 2026.
There's much tension between freedom (Uranus) and security (Taurus) throughout this period. Some of this will manifest in questions about our possessions and what we value – Taurus tends to accumulate 'stuff', Uranus likes to feel unencumbered. Have we reached 'peak stuff'? Some of us will prefer to enjoy the pleasures of Taurean experiencesinstead – delicious food, sensuous scents, gardens and nature, colour and texture.
I think Uranus in Taurus means we'll see incredibly significant changes financially, for Taurus is a financial sign. Uranus favours revolution, so this signals a notable financial revolution – likely to include the growth and acceptance of cyber currencies, such as Bitcoin and others, yet to be invented.
Disruptions to the Earth itself may be dramatic – earthquakes and other natural upheavals, such as volcanic eruptions, could increase now, and onwards towards 2026. Green energy sources and inventions will gain in affordability and popularity.
Uranus in Taurus could signal amazing discoveries about our planet, it's structure and it's energy patterns – particularly electromagnetic energies within the Earth itself, and those beaming in from outer space. We'll learn much more about geomagnetic forces, cosmic rays, and natural radiation during Uranus in Taurus years.
Similarly, there will be exciting discoveries about our five – or even six – senses, our physical bodies, and more secrets about our DNA. Some of these discoveries are likely to relate to our own electromagnetic qualities, and how we respond to electricity and magnetism in all their forms in our environment. Everything is connected as we plug into our planet.
Art, music, and fashion will be disrupted and refreshed in original, unusual ways during the Uranus in Taurus era. The use of electricity and lasers in beauty treatments will gain widespread popularity.
Inventive ways to address the global housing crisis will arise. All kinds of original and eccentric community-based housing projects and independent movements will have an opportunity to develop. They will disrupt our ideas about what's possible and what's practical. We'll experiment with unusual building materials, too.
The last time Uranus was in Taurus (1934-1942) the UK saw a massive housing boom during the mid to late 1930's. Much of suburbia was created then. The UK itself (1st January, 1801) has active Mars in Taurus in the 8th house of legacies, trine sober Sun in Capricorn in the 4th house of home and roots. Uranus came along and stimulated taking much-needed action on housing. We live with that legacy today.
All these themes will develop between 2018 – 2026.  If you have planets, angles or points between 0 – 2 degrees in your own personal horoscope, you'll feel this restless, inventive influence this year. Late degrees, and birthdays at the end of a sign, are also stimulated again. This is the beginning of a pivotal period for all the fixed signs – Taurus, Leo, Scorpio and Aquarius.
Uranus was last in Taurus from June-October 1934, then April 1935-May 1942.
World horoscopes feeling the force of Uranus in Taurus in 2018 include:
France (1792)
The UK House of Commons
The office of President of the United States
The Vatican City
There are many more locations worth watching, with planets in Leo, Scorpio and Aquarius. Uranian unrest, disruption, and upheaval seems likely in Russia, Eastern Europe and the Baltic States in 2018, for example.
3) Power and Mysticism – Jupiter's 2018 journey
2018 is full of practicality and major financial themes and dramas. But there're also a bewitching, imaginative possibilities. Expansive Jupiter in mysterious, watery Scorpio is involved with both stories.
Finances loom large this year. And when Jupiter meets powerful plutocrat Pluto, we'll see a few more juicy secrets emerge. Follow the money! Pluto also rules the secret services, so major news featuring behind-the-scenes activities is more than likely.
This planetary pair are also very helpful for projects involving charities, regeneration schemes, recycling and cleansing operations, foreign trade and investments – and building up power and influence.
In your own horoscope, Jupiter sextile Pluto in 2018 offers a confidence boost, and possibility of increasing your success, influence, knowledge, and financial security. It's particularly helpful for the Earth and Water signs – Taurus, Cancer, Virgo, Scorpio, Capricorn and Pisces.
Jupiter in Scorpio and Neptune in Pisces are also opening up a portal – a gateway into a beguiling world of mystery, imagination, and spirituality. Some of us will seek out a less materialistic view of life, others will want to explore psychic awareness, use their intuition, or study what's unknown, and unseen in the world around us. Some of this may find a conventional religious outlet, some of it manifests in a more open-minded attitude towards the paranormal, supernatural, and the powers of the mind. This connection favours music, art, healing, film, magic, and fantastical bohemian designs.
To make the most of this influence, we'll have to decide to work with it. Otherwise we'll simply melt into some kind of delectable, blissed-out haze, and miss out on some glimmering inspirations. The elves and pixies are waiting!
The downside of Jupiter and Neptune manifests in confusion, deception, delusion, and disappointment. So when this potentially magical influence comes along, do be very aware of financial scams and bogus spiritual gurus or romantic admirers.
Jupiter and Neptune work beautifully on an expansive creative, spiritual level – but can denote massive financial bubbles, dubious investments, and dangerous false optimism when manifesting on a practical level.  Plus, I'm sure this pair of planets will delight in some steamy scandal mongering in 2018. Neptune, in particular, is always associated with scandals.
Jupiter in Scorpio is trine Neptune in Pisces:
3rd December, 2017 at 11 degrees
25th May, 2018 at 16 degrees
19th August, 2018 at 15 degrees
These are the days when the aspect is exact. The flavour and meaning are swirling about from December to autumn, 2018.
Jupiter in Scorpio is sextile Pluto in Capricorn:
16th January, 2018 at 19 degrees
14th April, 2018 at 21 degrees
12th September at 18 degrees
As you can see, this powerful duo is around for much of 2018. These dates are for the exact link, but the atmosphere and energy of this connection is around from January until October.
4) Lover, Come Back, and Other Stories: Mars and Venus Retrograde in 2018
Both Venus and Mars have retrograde phases in 2018. This highlights our relationships, finances, and ability to move things along. Between them, Mars and Venus vitalise the signs of Capricorn and Aquarius (Mars), and Libra and Scorpio (Venus). The big message seems to be about wanting to begin things, and to stabilise them – but our best-laid plans will turn out to have many twists and turns this year.
Mars, planet of action and desire, will slow us down and ask us to rethink our proposed actions in the summer of 2018.
Mars will spend a big chunk of time in humanitarian, geeky Aquarius and practical, ambitious Capricorn this year. Any planets you have in your own personal horoscope that meet up with Mars will be switched on in ways you'll likely notice more than usual, as Mars passes back and forth over them. Projects begun in the spring will need to be reviewed or stalled during the summer months. Progress can be made in the autumn.
Mars enters down-to-earth Capricorn on 17th March, 2018.
Mars enters Aquarius on 16th May, 2018.
Mars turns retrograde in early Aquarius on 26th June, 2018, backtracking into late Capricorn again on 13th August, 2018.
Mars turns forward in Capricorn on 27th August.
Mars returns to Aquarius once more on 11th September, 2018 – finally leaving for Pisces on 15th November, 2018.
When Mars is retrograde it's a positive and helpful time to reconsider things. Beginning a new project or intimate relationship can be slowed up by circumstances outside our control. Aggressive actions can backfire during a retrograde phase – traditionally, this would be a bad time to attack an enemy, and perhaps not a helpful time to begin divorce proceedings, or other legal actions. So take it easy, if you can, between late June and late August – this phase will need caution, patience, and a willingness to wait until the right opportunity appears.
Venus will be rewinding in early Scorpio and late Libra. Throughout the late summer and on into the winter of 2018we're thinking about sex, relationships, and alliances even more than usual. There'll be some fascinating love stories, reunions, and break-ups as the planet of love spends months expressing herself through Scorpio's sexual passion and Libra's deep need for partnerships.
Money, art, beauty, social life, and finances are also in high focus between August and January.
Venus enters Libra, her home sign, on 6th August, 2018
Venus enters Scorpio on 9th September, 2018
Venus turns retrograde in Scorpio on 5th October, 2018
Venus returns to late Libra on Halloween, 31st October, 2018
Venus turns direct in late Libra on 16th November, 2018
Venus returns to Scorpio on 2nd December, 2018, travelling through Scorpio until 7th January, 2019.
When Venus is rewinding between October and November, we want to revisit the past in love, art, and money matters. Sometimes the past decides to visit us, and old friends and lovers return or lost art and jewellery is discovered.
If you have planets at early degrees in the fixed signs – Taurus, Leo, Scorpio and Aquarius – or in the last degrees of cardinal Aries, Cancer, Libra and Capricorn – both Venus and Mars will be making their presence felt in your personal horoscope in 2018.  This could be a memorable year for your artistic side, and your romantic life.
5) Special dates for your Moon Diary in 2018
Super Moon: 2nd January at 11 degrees of Cancer.
A Super Moon, overflowing in its own sign, Cancer, promises a deeply emotional start to 2018. There's an oceanic feeling to this Moon – it flows with watery Neptune in Pisces and Mars in Scorpio – but is prevented from floating away completely by the Sun and Venus in Capricorn. Certainly we can expect high tides on the seas, and in our own hearts and minds too. This Moon's signature is definitely 'tears before bedtime'.
Micro New Moon: 17th January at 26 degrees of Capricorn.
This new Moon is at apogee – that is, at a point where it is farthest away from us here on Earth on its monthly journey. This could well be the most unemotional new Moon of 2018 – favouring practical intentions and New Year clear-outs.
Blue Moon, Super Moon: 31st January.
This Blue Moon is also a Lunar Eclipse at 11 degrees Leo. And it's a Super Moon, so those lunar vibes are intense.  High tides and stormy weather are very likely both out in our world, and inside our hearts and minds.
This eclipse is visible in North America, Eastern Asia, across the Pacific Ocean, and in Australia. These regions – where the eclipse is visible – are more likely to see manifestations of the eclipse and it's meaning, according to traditional astrology.
February:
There's no full Moon in February.
New Moon and Solar Eclipse: 15th February.
This partial Solar Eclipse is at 27 degrees of Aquarius.
This eclipse is visible in Chile, Antarctica, and Argentina.
Blue Moon: 31st March.
This full Moon rises at 10 degrees Libra.
Two Blue Moons in a year is unusual. A Blue Moon is the second full Moon to rise in one calendar month – this year we have Blue Moons in January and March, signalling an increase in emotions and volatility here on Earth.
Summer's Eclipse Season
When an eclipse stimulates your horoscope you can anticipate changes and important developments. Generally, a lunar eclipse brings inner shifts, while a solar eclipse flags up events in the world around you, or actions you take. Sometimes these changes begin to form at least a month beforehand. Eclipses both conceal and reveal. During eclipse season it's wise to keep options open whenever possible – you may not see the full story or have all the facts you need until later.
Summer 2018 has the planet of action and forward movement, Mars, reversing throughout eclipse season in July and August, and Mercury retrograde in August. So I think it's crystal clear that, one way or another, summer's astrology says – whoa! Revise, reverse, rethink, and dig about in the archives for best results at that time. It really does all look somewhat bonkers.
Super New Moon: 13th July.
This new Moon is at the closest point to the Earth in its monthly journey. Today we have a potent, brooding partial Solar Eclipse at 20 degrees Cancer.
This eclipse will be visible in South Australia and Antarctica.
A total Lunar Eclipse.
This rusty, blood-hued Lunar Eclipse is visible in Europe, Africa, western and central Asia, across the Indian Ocean, and in western Australia on 27th – 28th July. This eclipse is at 4 degrees of Aquarius. Given clear skies, it will be something worth seeing.
Super New Moon: 11th August.
This is a Partial Solar Eclipse at 18 degrees of royal Leo. It's the final eclipse of 2018.
This partial solar eclipse is visible in northern Russia, northern Europe, north-eastern Canada, Greenland, and northern and eastern Asia. Traditional astrology says that these regions are more likely to experience the manifestations of the eclipse and its meanings.
Dark Stars: Horoscopes for January 2018
by Jane Lyle
From The Astrology Room
ARIES
Is there confusion or domestic chaos at home? Blame it on the New Year's full Moon. Yet, somewhere there's a lunar message for you from your very own subconscious mind. And what your inner spirit has to say will prove to be useful and enlightening as you step forward into an ambitious 2018. Helpful clues and energising conversations guide you during these early January days – women could be particularly supportive and helpful to you now. A powerful new Moon on 17th January finds you restless and eager to make changes – possibly startling changes – to your well-established aims and dreams. This has been cooking up in your psyche for quite a while, and your choices may unsettle some of those who know you well. You can sociably smooth over any awkward atmospheres after the Sun enters Aquarius on the 20th, plus Mars in Sagittarius (26th) lightens things up even more. Seize playful moments and enjoy yourself – overall, you're now on the threshold of a much more responsible, hard-working two-year phase. You'll achieve a lot, but don't neglect love, balance and harmony.
TAURUS
You're on the brink of a very interesting, fulfilling year. Do you fancy studying something seriously, or dream of working abroad? While frivolous travel may disappoint, travel in pursuit of something more substantial offers intriguing possibilities.  So do watch for hot news from far away around the new Moon on the 17th, and in the days that follow. For others, there'll be changes in and around your home and family, involving a move for some of you. Whatever is happening, you're beginning to see things from a fresh point of view, and your emerging hopes and dreams may surprise you. January and February bring pivotal eclipses in Leo and Aquarius, giving you plenty to think about as the year begins. It's very much a time to keep your options open, and see what – and who – crops up, whether that's offers of work, romance, friendship or shared creative projects. The first two weeks of January are looking especially lively. Your innate fondness for security isn't going away, but it will be shaken and stirred this year – and that can bring a renewed sense of freedom and vitality, along with a few nervous shudders.
GEMINI
Some subtle, or not so subtle, changes are afoot. You're finally free from Saturn in Sagittarius, which has kept your partnerships at work and in your personal world stable – or ended some of them altogether in the past couple of years. Now you're more open to unusual ideas, or creative conversations with quirky people. It feels good to let your mind roam freely, and all manner of things could inspire you this month. You may even rediscover just how much you still have in common with someone you've taken for granted. Do keep a very cautious eye on your money though, particularly any financial commitments or projects you share with others. Information may not be reliable, or missing altogether. So treat what emerges towards the end of January and in February with great care, and don't be tempted to splash out or lend money you could do with yourself.
CANCER
January promises to be quite a month for you, the lunar star of the zodiac. There are two full Moons – the first one is in your own sign on January 2nd. Your emotions and intuition are at a New Year peak, bringing surges of visionary knowledge and romantic love. This month is full of constructive potential, particularly the first ten days. So if you want to begin a new project or establish a new relationship – make a move. Around 7th January, when Mars and Jupiter meet in Scorpio, is fortunate, high-energy moment for love, luck, and creativity. Then mid-January brings the powerful, transformative engine of Jupiter and Pluto into your world – another key moment when life can be reinvigorated. For some of you, this comes through developments in the life of a partner or close friend – their news heralds important changes for you, too. This is a big theme for 2018 anyway, for with Saturn now in Capricorn, your longstanding partnerships at work and in your personal life are highlighted – there's more commitment for some of them, while other connections are leaving your life over the next couple of years.
LEO
You may be tucked up in your cosy nest as the year begins. But your imagination soaring, and conversations with young people or children look especially inspiring or uplifting. Everyday rituals and routines sustain you now, and on into 2018 when taking good care of yourself and creating balance in your life is a priority. Your home and family are a wonderful source of good feelings or even luck this year – and entertaining more at home is another happy possibility. Exciting changes are brewing in your career too, and although you may not be able to figure out what's going on yet, you'll sense it in your dreams. In the immediate future, eclipses in Leo (31st January) and Aquarius (15th February) stir up your world, and the way you see it. For some of you, a new relationship could be surprising and heart-warming. For others, rediscovering something you've studied and almost forgotten, has much more to offer in terms of adventure, practical developments, and shared endeavours. No need to firm things up just yet, an open mind and heart is all you need.
VIRGO
The first ten days of January are full of cosmic support for you and your New Year dreams. Although there may be some emotional chaos to deal with early this month, there's also a pleasing run of luck and positive energy to help you step forward into 2018. Between the 6th – 10th January is particularly potent, and an excellent time for romance, social life, communications, and charming the birds from the trees. A Capricorn new Moon on the 17th would be a positive time for making any new year's resolutions – but try to be flexible, your views and desires may have shifted when you weren't looking. It's helpful to spend some time thinking about what you want, rather than what you think you're supposed to want or need. Saturn has now left your home and family zone, so you'll begin to see certain things freeing up or changing as the weeks pass. Creating and committing to something lasting is shaping up to be your main future focus – whether that's romance, having a child, or designing an amazing garden.  Cultivate your inner zen master, and allow things to develop at their own pace.
LIBRA
What do you value in your life? For some of you, the answer to this question has changed in recent years. Now it's all in focus again, as planets emphasise home and family, love, and what's in your personal treasure chest. Yes, money matters – and some excellent opportunities to improve your financial situation should become clear in the first two weeks of January. There may be a spot of money luck – you might discover something valuable in your home, or find a bargain at a car boot sale. But, as you already know, money isn't the whole story. Saturn, now in Capricorn, will be bringing more responsibilities and decisions involving your home, and close family members in 2018. Your own family story, ancestors, and parents will be important – it's a good year to ask yourself 'what have I learned from them?'. What you discover illuminates the way forward, step by step. Towards the end of the month you'll get a lot out of chatty get-togethers, writing, and communicating in general. Take any inevitable changes in your charming stride – and prepare for a lively February.
SCORPIO
Communication is the key to success as January begins, so if there's something you need to get across you can speak up with confidence now. The intensely watery full Moon on 2nd January could bring a surge of powerful emotions, and prompts you to look back at the past. But Jupiter and Mars in Scorpio are working together during January's first ten days – your actions and choices at this time are full of stunning potential, and you can attract luck and support. There's no need to overdo anything, remember sometimes less is more. As the weeks pass, eclipse season approaches. These eclipses on 31st January and 15th February emphasise important developments in your career and ambitions, and for your home and family. It's a strong theme that began in 2017 – and many of you have already sensed, or seen, changes. You haven't got all the information you need yet, and will have to trust your own superb instincts and play a waiting game. But with Jupiter in Scorpio your ability to feel optimistic is boosted, and your positive attitude attracts happy coincidences and good fortune.
SAGITTARIUS
You're inching your way towards a more soulful, creative year. But don't underestimate what you've already achieved, for all your hard work over recent years has been very worthwhile – even if you sometimes doubt this. Some unexpected news, or a sudden flash of inspiration early in January lightens your mood and reveals new possibilities. If you're worrying about your finances, try to step back a bit and consider taking some practical action. Once Mars enters Sagittarius on 26th, you'll be keen to move forwards – an energetic phase that lasts until mid-March. Bear in mind that certain long-established things in your life, or at home, seem to be confusing or muddled. But if you can shift your attitudes and point of view, you'll find a way of coasting along instead of getting stressed or bewildered. Your amazing ability to sense trends, or tune in to your own subconscious, is strengthened this year – and can bring you much luck, joy and fulfilment if you can let go of rigid old ideas or expectations. They can safely be chucked into the dustbin of history.
CAPRICORN
Well this truly is your season! January begins with four planets in Capricorn, emphasising your sign and its dynamic, earthy qualities. The powerful full Moon in Cancer on 2nd January, highlights some emotional times with your partner or close colleagues. But beautiful aspects in January's first couple of weeks mean that you've got lots of support and encouragement, and any group projects you're involved with are looking very good indeed. Both luck and romantic feelings are also linked with groups of people, and your own inimitable charm means you'll be in much demand this month. Saturn, your ruler, is now in Capricorn until 2020. It's an outstanding opportunity to refine things, to make commitments, and create lasting achievements. You'll be working hard – you may have to make sure that your serious, driven side doesn't completely take over. So don't forget to include music, creativity, and your more soulful self in any New Year's resolutions you make. And why not make space for a few surprises too? You know what they say about all work and no play.
AQUARIUS
The weeks just before your birthday month are always a productive time for reflection on the past year. This year you're sensing the approach of two eclipses – one in Leo (31st) and the other in Aquarius on 15th February. Eclipses stir things up by revealing and concealing information. So a spot of pondering should be even more helpful than usual – and wise Aquarians will hold off on making hard-and-fast decisions too early in the New Year. In any event, January's first two weeks bring pleasing news, plus one or two interesting invitations or offers to amuse you. Certainly, if you're involved in any form of education, or your work needs you to travel, these weeks look very promising. Once the Sun joins Venus in Aquarius, after 20th January, your mood lifts and your ability to impress others, or attract what you need, is enhanced. This promises to be a memorable year for you, with energetic Mars in and out of Aquarius for months from May until November. Take the long view now, and you'll be well-placed to make the very most of the year ahead.
PISCES
You've got all sorts of choices to make as 2018 begins. But first, you're floating along on the silvery tides of a spectacular full Moon in Cancer that opens the year for us all on the 2nd. Inspiration flows, and that loving feeling could overwhelm you, especially if it links to the past. As the lunar tides ebb away, a productive phase awaits. If your plans include study, travel, creative writing or raising your profile in some way – do take full advantage of January's first couple of weeks. Unexpected help and luck are highlighted – and you could discover an interesting way to boost income or increase self-confidence. Your two ruling planets, Jupiter and Neptune, are working together for much of this year – with outstanding potential for your hopes and ambitions. Your charisma is seductive, and your spidey senses are tingling. Do avoid getting involved with 'get-rich-quick' schemes – they're more than likely to end in disappointment or even loss. So why not channel energy into love and creativity instead? Refreshing your dreams brings fulfilment this year.
Your Weekly Love Horoscopes for January 8
by Sarah Bartlett.
From The Astrology Room
Mars and Jupiter in intense Scorpio may be causing emotional dramas and careless loving, but stern Saturn in reminding us that we have to be true to our beliefs too.
Follow the road that is clear in your head this week, and forget any silly ideals or other people's expectations. Then, in the weeks to come, you will find that it was worth the effort to stick to your convictions.
ARIES
This new year, will be bumping into fascinating new characters if single, and if attached, you begin to let your partner know that you may be unpredictable, but you are also full of depth, desire and love. It's time to unleash all those feelings, and let someone know that you're a human being too.
TAURUS
You're now on the road to a deeper, more true and joyous kind of loving without giving up on your independence. You are generous, loving and loyal, but don't rob your partner their right to be individual either. Trust works both ways, so trust in that, and then you won't feel you need to own someone, just love them.
GEMINI
Although one partner or admirer seems to be more interested in themselves than in your plans, don't take it personally. If you're getting out and about, and they're working like demons, then you're right to do your own thing. In a few weeks time they will see that your laid back attitude may appear to be merely a philosophical way to look at love and life, but it works.
CANCER
Since the recent full moon in your sign, you may still be filled with mixed feelings about leaving the past behind.  'Moving on' has become in vogue. We are expected to get on with our lives, and live for the future. But think carefully, after all, the past will never catch up with who you will be tomorrow, will it?
LEO
Sometimes life feels like an empty shell. Your fears and longings seem to take up your waking moments, the negative thoughts impossible to escape, the positive ones, well, seemingly impossible – yet they are not. This week it's time to fill your life with love for yourself and the universe, then the beneficial changes will begin.
VIRGO
Time to put an end to stupid over-thinking in the love department. However, the only thing which may hinder you is your stubborn mind. Luckily, Mercury's move into Capricorn will bring you a breath of fresh air, and you realise that things are about to change for the better.
LIBRA
This week, be honest about what you want. It's often what we don't say that gets taken the wrong way. If you really believe that your love life needs a little tender loving care, then there's no time like the present to do so. This week, you really have no excuse but to say to someone what you really want, and romance will truly blossom.
SCORPIO
Pretending you don't care isn't the answer. In fact, you need to make it clear to your partner or someone new if single, that your independence is sacred, but you do have feelings. It's also timely to ask yourself a question:  do you love your life enough to change it? If the answer is yes, then the planets are giving you carte blanche to do so.
SAGITTARIUS
You know what you must give up in order to be who you truly are and want to be. If you understand this part of yourself and see how you can climb the ladder to relationship happiness, then another part of you will have to be relinquished. Whether that's a lifestyle, habit, people or attitude, you are about to go through a massively important but positive transformation.
CAPRICORN
Thanks to the recent full moon in your opposite sign, at last you can take every day as it comes and resist trying to organize it into little boxes. This week, you're also ready to relax and take a more laid-back approach to life. If single, suddenly it seems you're in demand again. Funny, isn't it, how, as soon as you stop trying to hard, you end up being desired?
AQUARIUS
It's getting to a point where there's not so much a lack of love, but a feeling you're missing out on something romantic and unforgettable. In fact, you are beginning to wonder if all that stuff about couples and long term commitment is all it's cracked up to be. Isn't there more? Luckily, there is.
PISCES
This week, you really do want to have your say and get it out of your system. But take a long hard look at what you are getting miffed about. Is it simply that the truth often does hurt, and you need to defend yourself? Be kindly to your lover or admirer, and they will be gentle with you too.
Your Daily Horoscopes for Monday 8th January
 Claire Petulengro, Astrologer
From the Astrology Room
ARIES (March 21st-April 20th)
Don't say sorry if you don't mean it Aries, as your face is giving away more of your thoughts than you may realise. If you can make more time for family this week, then you will find out the truth behind Christmas hints.
TAURUS (April 21st-May 21st)
Be patient with family and friends, who may be finding your fast pace a little too much for them over the course of January. You would be far better to let others lead the way and to talk this week.
GEMINI (May 22nd-June 21st)
Are you really being left out, or are you making yourself the odd one out? This is a question only you can answer. Just remember, that if you push others for a reaction, you are going to get your fingers burnt.
CANCER (June 22nd-July 23rd)
Little hints given by close ones seem to have been ignored by you. Did you do this on purpose, or can you really not see the changes those you love want and need? Happy times link to you saying yes to impromptu invites.
LEO (July 24th-August 23rd)
You don't care about everybody else, you just want to spend your time with the person you can't get off of your mind. However, they seem oblivious to the urgency of your request. Stick to plans so they see you have a life of your own too.
VIRGO (August 24th-September 23rd)
Money matters come to the fore and you may find yourself being forced to pay out cash you didn't think was your responsibility. Talk don't shout to find some middle ground. There is an imbalance in relationships today you need to rectify.
LIBRA (September 24th-October 23rd)
Lies have been told and quite a few of them. Because of this, you are not quite sure what is fact and what is fiction. What you do know and will continue to be confident about, is who can and cannot be trusted.
SCORPIO (October 24th-November 22nd)
You're feeling the need to talk with a close one, to get all your worries off your chest. However, they feel more inclined to talk about anything but what's on your mind. Luckily tonight sees you both able to find common ground.
SAGITTARIUS (November 23rd-December 21st)
Don't let others' moods drag you down, but move onwards and upwards. You have put too much hard work and effort into things since Christmas to do anything else my friend. Animals lead to some interesting introductions.
CAPRICORN (December 22nd-January 20th)
Life has been either a daring adventure or boring for you. There has been no in between. Today you get to restore some balance and harmony. Don't waste your energies on those you know won't compromise.
AQUARIUS (January 21st-February 19th)
Try not to nit-pick at what others say, instead get on with the plans you had made for yourself in the days ahead. A new way to blow off steam can be found by invitations you accept for the upcoming weekend.
PISCES (February 20th-March 20th)
A really childish feel to your stars could see you being annoying on purpose. Know how far is too far to go my friend, as a certain union in your life has taken as much pressure as it can handle.
If You Were Born Today, January 8
You have a strong sense of purpose and responsibility. You easily feel guilty and are often found weighing pros and cons, as you are able to see both sides to any situation. While you are sensitive and naturally retiring, you are also very aware of your reputation and image, and you will rise to most challenges. Others might not know that you have a competitive streak, and you can be quite stubborn. Famous people born today: Elvis Presley, David Bowie, Stephen Hawking, Soupy Sales, Sarah Polley.
Your Birthday Year Forecast:
Your birthday occurs around a Third Quarter Moon this year, and you are reaching an important turning point in terms of personal growth. You may be more emotional this year, and should watch for unnecessary conflicts and making hasty decisions as a result. Otherwise, this is a year of greater understanding and a strong desire to take care of business. This should be a busy, dynamic period in your life.
Jupiter transits in harmony with your Sun this year, and you have a stronger than usual desire to improve, grow, and learn. This is a fortunate aspect that helps boost optimism and confidence, and you are able to attract fortunate circumstances into your life as a result. Problems are easier to resolve. Matters related to universities, higher education, organized religion, publishing, legal affairs, and foreign interests can be especially strong. It's a strong time to further your education. You are likely to enjoy a larger perspective on matters that keeps you from getting lost in details or overly frustrated by everyday stresses.
Career and life path matters may seem to magically fall into place, taking you in a direction that fits.
You have tremendous enterprising spirit this year, attracting strong opportunities on both professional and personal levels. You are able to see the "big picture", which helps you plan effectively. You have significantly more courage and gumption, making the year ahead a standout one in which you are ready to try new things and take on challenges.
You're also quite driven to make improvements and effect positive change in the year ahead. This positively impacts many areas of your life beyond the personal, including relationships and work.
This can be a good time for updating your electronics and technology in ways that open up new avenues for communication or ease. Wonderfully creative ideas can fill your head this year.
You have a stronger than usual desire to improve and learn this year, with opportunities emerging to match. Optimism and confidence are with you, and you are able to attract fortunate circumstances into your life as a result. Problems are easier to resolve this year. Your social life will likely increase and bring you in contact with helpful people. Travel opportunities are likely. Pinnacle successes can occur during this period – for example, publishing an important project, graduating, marrying, having a child, getting a promotion, and so forth. Matters related to universities, higher education, organized religion, publishing, legal affairs, and foreign interests proceed smoothly. It's a good time to seek out advanced training or to further your education. You are likely to enjoy good humor, optimism, and a larger perspective on matters that keeps you from getting lost in details or overly frustrated by everyday stresses and strains.
Personal magnetism is tremendous this year. You are playfully competitive and might win a major competition, if applicable. This is a good period for creative projects and joining with others in the pursuit of a common goal.
This can be a year in which you are bolder, more assertive, and energetic. You are especially interested in setting goals and challenges for yourself this year, and taking the necessary action to meet them. You may meet or interact with others who encourage or inspire you in some way to have more confidence in yourself.
Your passions and enthusiasm run high in the period ahead, and you find it natural to channel this extra energy constructively. This is an excellent year for enterprising endeavors and new interests, but equally as potent for relationships and creativity. You're drawn instinctively to certain projects that have long-term value. It can be an especially creative, tuned-in year for self-expression, not only verbally but through hobbies, games, or sports.
2018 is a Number Two year for you. Ruled by the Moon. This is a year of potential companionship. It is a quiet, gentle, and mostly harmonious year that is generally not as active than other years. Instead, you are more responsive to the needs of others. If you are patient and open yourself up in a gentle manner, you will attract what–and who–you want into your life now. This is an excellent year in which to build and develop for the future. Advice – be patient, be receptive, enjoy the peace, collect, develop, build, and attract.
2019 will be a Number Three year for you. Ruled by Jupiter. This is a year of sociability. It is a friendly time when you find it natural and easy to enjoy life and other people. The focus is on personal freedom, reaching out to others, making new friends, and exploration. You are more enthusiastic and ready for adventure than you are in other years. It's likely to be a rather lighthearted year when opportunities for "play" time are greater than usual. It's also a favorable year for expressing your creativity. Advice – reach out and connect but avoid scattering your energies.
Get A Jump on Tomorrow…
Your Horoscopes for Tuesday, January 9th
Claire Petulengro, Astrologer

ARIES (March 21st-April 20th)
If you believe in your dreams this week, then others will too Aries. You have spent far too much time doing what others thought was right, rather than what was in your heart. Time for change. Starting today.
TAURUS (April 21st-May 21st)
Stop worrying about what might happen and instead put your time and efforts into what is happening. It would be far more advantageous to use today to tie up loose ends than to start new beginnings.
GEMINI (May 22nd-June 21st)
The secret of getting ahead is getting started. You learn this by the way the success you get when you attempt to actually do things, rather than just thinking about doing them. Careful of what you sign today. Forms are not as flexible as you think.
`
CANCER (June 22nd-July 23rd)
Were your actions dramatic and childish, or were they a cry for help? You begin to calm down from today and to look at things from a clearer angle. You see what and who was making you ill and work out how to put things right.
LEO (July 24th-August 23rd)
Think before you speak, as you could be revealing words which will only make your cause a harder one to fight. A better atmosphere in the home comes from you showing a more relaxed attitude to what others do.
VIRGO (August 24th-September 23rd)
The need to see someone who is important to you could see you telling white lies to those you'd already made commitments to. Better to tell the truth according to Saturn,
LIBRA (September 24th-October 23rd)
Being nice to all you meet can go a long way to how you are judged. Try to be nicer to yourself as well. Giving yourself such a hard time over events which were out of your control can only be your undoing.
SCORPIO (October 24th-November 22nd)
Someone you didn't think you would see again is back and they seem to have more time for you. Could this be a compatible match? It seems so if you would just slow your pace and allow yourself to have some fun.
SAGITTARIUS (November 23rd-December 21st)
You've changed! You've had to do a lot of growing up over the last few months. The good news is that you've come out of it all a bigger and better person. Jealousy in the workplace is your enemy. Reign it in! Ring now so I can help you priorities.
CAPRICORN (December 22nd-January 20th)
An end to a situation has had a knock-on effect to your life. You may not realise it, but time is the best healer, so try to give yourself some more time to think about how you feel after all you've been through.
AQUARIUS (January 21st-February 19th)
I know you are angry about something which didn't work out, but you do have other choices now and they're good ones. You seem to be facing an issue over which side you should show loyalty to in a split. You don't have to choose, do you?
PISCES (February 20th-March 20th)
Careful who you tell your secrets to. Many of the signs are speaking for the sake of it. Why not try keeping information you want private between only you and those involved. It's sure to lead to a far more confident feel to your week.

Your Daily Tarot Card for January 8
The Moon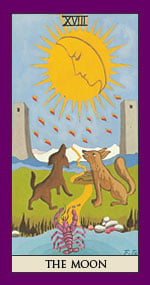 Keywords: imagination, dreams, emotion, competition (the dogs), illusion!
Astrological Correspondence: Pisces
The Moon in all its phases represents the world of dreams, illusions, and the subconscious. Traditionally the symbol of the feminine, the card's meaning encompasses the maternal, the Great Mother, womanhood, and cycles. The Moon is an ambivalent card, and its imagery signifies the difficulty to see things clearly: simultaneously inspiring and lacking courage, enchanting and bewildering, deceptive and receptive – all sides of the same coin. Signaling fluctuating moods and uncertainty we must pay attention to our dreams, confront our subconscious and deal with the issues that come to the surface in order to progress to a higher level of awareness. Being able to put our imagination and creative talents to good use is an added bonus. Negative qualities such as ambiguity, confusion, hidden fears, and deception can be causes for failure.
Your Daily Love Tarot Card for January 8
The Sun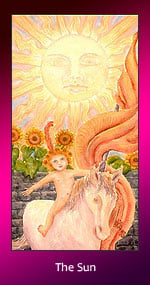 The Sun is an invitation to a supportive relationship in which you can be yourself around your significant other. You feel relaxed and loved, with a sense of peace of heart. You've struck gold and entered into a new realm. Keep looking if this is not how you feel because it is how things should be. You can't expect improvement in a long-term union if you do not take effective steps to create it.
Your Erotic Tarot Card for Monday, January 8
The High Priestess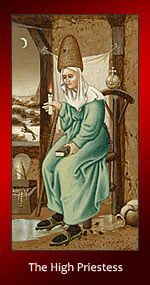 The High Priestess card is a sign that you've recently made a big decision in your life, and you finally feel like you've reached some level ground. Now that you can finally breathe a sigh of relief, your sex life will feel revitalized. Everything isn't perfect, but the positive factors far outweigh the negative ones, and you're feeling sexually free to explore new and exciting options. Sexual balance is high on your priority list, so go out there and find the erotic yin to your yang.
Your Weekly Influences for January 8
Tarot Influence:
Ten of Cups Reversed

Betrayal and failure. The loss of freindship and love
Astrological Influence

Virgo

Virgo denotes intelligence and a drive for perfection taking command–the dealing with all aspects of life honorably.
Element Influence
Water Reversed
Water reversed denotes secrets to which you are not privy. Approach all ventures with caution.
Your Ancient Symbol Card for Today
The Dove


Throughout history the Dove has symbolized peace and innocence in nearly all cultures. Dove's soft cooing and gentle nature bring a calmness to any situation. The Dove appears where peace has been attained or there is a need to bring events to a peaceful ending. It denotes a time to let lose of grievances and settle conflicts in a way that benefits all parties equally.
As a daily card, Dove suggests the need to put an end to conflict in your present life. The conflict may be yours or may be that of people close to you. Regardless of the parties involved, you have been called upon to bring the discord to an impartial end.
Psychic Tip of the Day
January 8
NEW FRIENDS
What you lack in intimacy you make up for in the feeling that the world might be conspiring in your favor, finally. Are you looking forward to new friends?
Tarot.com is a Part of the Daily Insight Group ©2017
Your Daily Rune for January 8
Jera
Rune of harvest and reward for, or reaction to, right actions in a horizontal (naturally ordered) cyclical process. Rune of peace on the land and in the heart.
Psi: psychological time, patience, the measurement of time
Energy: good harvest, orbits, cycles, progress, biorhythms, right effort
Mundane: waiting, gardening, farming, the seasons, harvest
Divinations: Reward for positive action, plenty, peace, proper timing; or repetition, bad timing, poverty, conflict, regression.
Governs:
Fertility, creativity and harmony with the land
Peace, prosperity and plenty
Realization of the cyclical nature of the multiverse, invoking the power of time and cycles
Bringing other concepts gently into material manifestation
Initiating gradual and lasting change in flow of life
Your Animal Spirit for Today
January 8, 2017
Eagle
Eagle soars high enough to see the grand panorama of life, and yet has vision keen enough to spot a fish a mile away. How's your vision? Are you seeing the big picture or are you only concentrating on the fish? Eagle is asking you to take a step back so you can once again see the whole. You've gotten so lost in the trees you've forgotten the forest.
Your Karmic Number for January 8
Do you remember the story of Dr. Frankenstein and his monster? This 9 says that you might be losing control of what you created. Save the drama for Hollywood producers. It may seem too late to remove yourself from the madness, but it's not. There is a glimmer of hope, if you want it. Think about what was going on in your life before you created your own soap opera. Did you feel a pang in the center of your stomach? Good, you are off to a fresh start. Remember that feeling. That's your inner guidance helping you. Listen and let this cycle end.
Crack the Cookie
The Wisdom of Buddha
You, yourself, as much as anybody in the entire universe, deserve your love and affection.
A Little Humor for Your Day
Ten Ways to Piss Off a Pagan
1.Ask them if they are Satan worshippers.
2.Be considerate, rearrange their altar so it will look neat.
3.Blow out their altar candle if it is still day light.
(No need to waste a good candle!)
4.Pick up their gems for a closer look.
5.Sharpen their dull black-handled knife.
6.Witness to them about the "true religion".
7.Untie the knots in their cord.
8.Take hold of their jewelry for a closer look.
9.Play card games with their Tarot cards.
10.Ask them if they are Satan worshippers.
by Grey Mantle
Ten More Ways to Piss Off a Pagan
1. Ask them if they talk to their crystals.
2. Ask them if they have accepted Jesus Christ as their personal savior.
3. Exorcise them, their home, or their personal belongings.
4. Ask to see their witch marks.
5. Give them a copy of the Necronomicon "because I know you're into that stuff."
6. Bring the plate of food they left out inside so it won't spoil.
7. Leaf through their Book of Shadows.
8. Open all the doors and windows of their house to get rid of "that nasty smoky smell".
9. Call them "acorn worshippers".
10. Ask them if their crystals talk to them.
by Honeyblossom